Why am I doing this to myself?
I mean, it's all over, isn't it? Tonight's 5-0 loss to the Cards has basically shown us that the Mets are ready to mail in the season...no?
You guys don't need me anymore. You can write your own game recap...it will be like "Metstradamus the Home Game". It's easy, all you have to do is fill in the blanks:
Mets Lose Again
The Mets playoff hopes took another blow as they lost today to the _____________ by a score of _-0.
_____________ was the hard luck loser tonight, as he threw shutout ball for 5 innings, but then in the sixth gave up a long bomb to _____________. The bullpen was no help as ____________ came in to gave up ____________'s first major league home run. It was also a tough night for the defense as Kaz Matsui committed his __th error of the season.
But the lineup fizzled again as the lineup could only muster _ hits off of starter and winner ___________________. Cliff Floyd went 0 for _, and Carlos Beltran was thrown out stealing _____ base in a crucial spot in the _______ inning.
The Mets now fall __ games behind the Atlanta Braves for the division, and __ games behind _____________ for the wild card.
I hate ___________.
See, easy.
***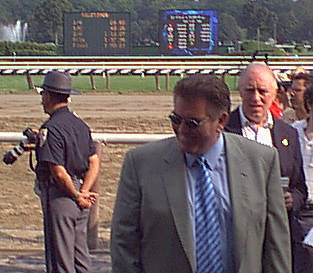 Mike Francesa is a reader of this blog.
He has to be. Why? Because he commented, in between trying to hold back his giggles and giddyness at the Mets expense that the Mets lost twice against Atlanta last night...which was first noted by yours humbly.
Then he has the gall to say that he doesn't hate the Mets. For someone who enjoyed talking about Wednesday's collapse as much as he, that's a tad hard to believe.
Well as long as you're a reader Mike, here's something for you to read:
Burn in hell you giggling Yankee apologist!!! And take Mad Dog Benitez with you!
Steal
that
for your little show.