So now we know. It's the White Sox and the Astros in the 2005 World Series.
I have to say as I type the words it's extremely weird to imagine that these two particular teams are playing in the fall classic. Strange.
Not a bad thing, just strange. I'm sure it's just as strange for White Sox fans and Astros fans to wake up this morning and realize that their team is playing in the World Series. I know it was bizarre for me when I woke up 19 years ago today and thought "Oh my goodness, the Mets are in the World Series!"
But now that we know the participants, it's time to break it down and pick a winner. But this is me we're talking about...so be forewarned that this isn't going to be your typical World Series preview:
Former Mets:
The White Sox have Timo Perez, who helped cost the Mets a victory in the 2000 World Series, and Carl Everett, who became a hothead upon leaving the Mets. The Astros have Jose Vizcaino, who as a Met was beloved, and Dan Wheeler, who was on the mound to close out the NLCS. The Astros also employed John Franco at one point this season before they released him (how must he be feeling right about now?) and Scott Strickland is in their system.
Edge: Astros
Former Yankees:
The White Sox employ Orlando Hernandez, who the Mets defeated for his only career postseason loss, Chris Widger and Jose Contreras. The Astros have Vizcaino, who as a Yankee defeated the Mets in game one in 2000 with a walk off, Andy Pettitte, and Roger Clemens. The 'Stros also have former Yankees Russ Springer and Charles Gipson.
Edge: White Sox, not even close.
Sentimental Stories:
For the Astros, it's Craig Biggio (20 seasons) and Jeff Bagwell (16 seasons) who not only have waited forever to play in a World Series, but somewhere in the back of their minds they must have had a thought for former teammate Darryl Kile, especially after getting to the World Series in St. Louis, where Kile pitched his final game. For the White Sox, it's Jermaine Dye, who might have gone to the World Series except for the fact that he broke his leg on a foul ball in the 2001 ALDS against the Yankees.
Edge: Big one to the Astros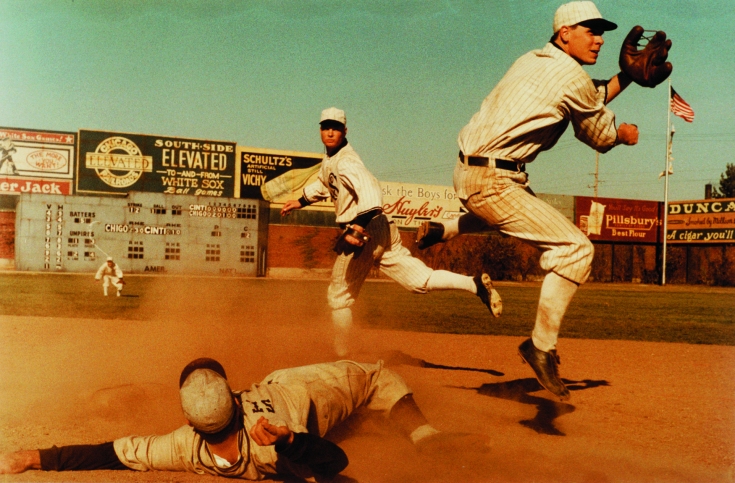 Movies:
"Eight Men Out" for the Chisox, "Bad News Bears in Breaking Training" for the Astros.
Edge: White Sox
What Yankee fans think:
This one says that
the White Sox will defeat anyone
in the N.L.
Edge: Astros
Bars:
Astros: "Cooter's". White Sox: I thought all of Chicago was one big drinking establishment.
Edge: White Sox
Old Uniforms:
White Sox: Collared uniforms and shorts. Astros: Rainbow Brite.
Edge: There can be no winners.
Dynasties:
White Sox: Jerry Reinsdorf oversaw the Chicago Bulls double 3-peats. Astros: The late John McMullen owned the New Jersey Devils during their three Stanley Cups in 9 seasons.
Edge: White Sox, although it would be fun to see Scott Stevens lay an open ice hit on Scottie Pippen.
Cubs fans:
We know they are fuming that the White Sox are in the World Series (
they're even trying some reverse psychology
), but at one point last season, a couple of Cubs fans had the bright idea to
try to bring a billy goat into Minute Maid Park
, knowing they would be turned away...they were, and these guys thought that the curse of the billy goat had been transferred to the 'Stros. Now that they are in the series, Cubs fans are basically screwed all the way around.
Edge: White Sox
The Final Verdict:
Game Six of the 1986 World Series was started by Roger Clemens. Clemens might very well start Games one, four, and seven of the 2005 World Series. That gives Metstradamus a clear rooting interest in this one.
White Sox in seven games.