I'm a sports junkie.
You coudn't tell, could you?
I'm one of those guys who can be on the computer for hours doing something totally unrelated to sports like paying my bills or allowing myself to be totally engrossed in a game of Bejeweled, but I always need to have the sound up on ESPNEWS, or SportsCenter, or something...anything sports related.
You know what is on my television right at this very moment?
"Eddie And the Cruisers Two...Eddie Lives!"
What would drive me from the comforting hum of Anthony Amey and Cindy Brunson reading me scores to an ill-conceived sequel featuring the catchy tunes of John Cafferty and the Beaver Brown Band?
Al Leiter.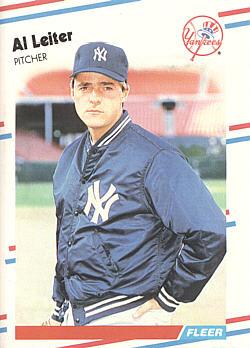 What Met fans realize is that the glory of Yankee Octobers have featured many of the icons of Mets past, like ghosts.
Dwight Gooden.
Darryl Strawberry.
David Cone.
And now...Al Leiter.
Oh sure, the Yankees of 2001-2004 have been littered with bit players who once donned blue and orange like Alberto Castillo and Bubba Trammell. There were even appearances by Todd Zeile and Tony Clark...and frankly I'm surprised the Yankees didn't win a title last year with John Olerud wearing the battleship gray. But now, game one of the ALCS, and who's on the mound? The same guy on the mound when Luis Sojo hit a 102 hopper up the middle to win the 2000 Subway Series.
So this is how the Yankees are going to rub it in our faces this year. Al Leiter. The ace of the Mets staff reduced to an innings eater for the "greatest franchise in the history of sports", wearing a uniform number in tribute to Dave Righetti.
Whoa, whoa tender years
Won't you wash away my tears
How I wish you were here
Please don't go, tender years
As I sing to lament the past, I dread the future...a future I can't face, as I use Michael Pare to run from reality, and avoid a half-hourly reminder that the Yankees are up 1-0 in the ALDS.
Al Leiter, a Yankee. Another ill conceived sequel.