As I'm sure you all have known, especially as a young person, that when the world of a Joe Schmo intersects with the world of someone who by association is the friend (or enemy? Frenemy?) of everyone in America, the emotions range anywhere from butterflies in your stomach to a perverse sense of accomplishment. Even if it's something everyone can do or attend like say, an autograph signing, don't you always go back to your friends to show them the autograph or the picture taken of the two of you thinking to yourself "yeah, you're all impressed aren't you...I did this, not you."
The world of Metstradamus has intersected, albeit breifly, with the world of some of your favorite New York Mets. My regret is that I wish I had
really
cool stories for you like the one that would go something like this:
So I'm in this bar drowning my sorrows, and in walks Armando Benitez, and he tries to dance with my date...so I punch him out! And the next day, he blows a save for the Yankees!
Nope, never happened. But now you all have something to shoot for.
My stories are of the low standard, slightly bizarre variety. Getting Clint Hurdle and Randy Myers to wave at me from the bullpen in 1987 was a huge accomplishment for me. An even bigger accomplishment was yelling to Darryl Strawberry that he could move from his "Strawberry Patch"; the small, worn patch of grass at Shea where Strawberry played every hitter...sluggers and slappers alike; because the opposing pitcher was up. And you know what? He did. And you can't tell me that it wasn't because of my gentle reminder.
The best enounter of the long range variety involved another outfielder named Daryl, but it wasn't Straw, it was Boston. Daryl Boston, otherwise known as D-Bo, roamed the Shea outfield in the early 90's...and one night while in right field, our ticket plan crew gave him the warmed over "Daaaaaaar-yyyyyyl" chant during a particularly ugly game during the top of the inning. One of the smart ones in our group reasoned: "No no no, he's not going to respond to that, he hears that all the time...watch this!" And with that, in a half empty Shea Stadium, he yells:
"HEY MR. BOSTON!"
He turns and faces us between pitches, and sees about ten of us yahoos waving at him. Class act that D-Bo was, he waved back.
Now that made our entire night...especially since this
was
the early nineties, which means the Mets were probably losing by about oh, fifty runs or so. But the same man who came up with the brilliant attention getter, almost took it too far.
"Hey, you're going to meet us at Scores after the game, right?"

What does D-Bo do besides laugh his butt off? He turns back to us and gives us the finger to the mouth in the universal sign for "sssssshhhhhhhh."
Daryl Boston: Metstradamus legend.
***
Autographs are things I wish I kept better track of. My first ever autograph was on a slip of paper barely bigger than one of those out white out strips that us older folk used on a manual typwriter. It was Neil Allen, acquired down the first base line before an afternoon game where I went with a friend of the family. That piece of paper, unfortunately, is long gone. So too, I fear, might be the program signed by four of the World Champion Dodgers of 1988 down the third base line at Shea. One was '86 champ Danny Heep, one was Jay Howell; known to Met fans as the pitcher ejected from game three for too much pine tar in the glove. (Phil Garner was the third, and I always got Tracy Woodson and Jeff Hamilton mixed up but one of them was the fourth.)
I don't have an autograph story as cool as a friend of mine does: Not only did he catch a batting practice ball at Fenway Park, but got Lee Smith to sign it before the same game!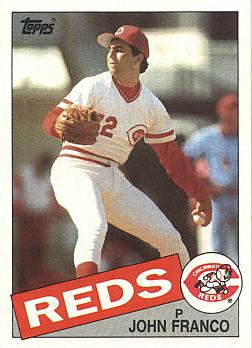 But an autograph signing almost caused John Franco to go blind...courtesy of yours truly.
It was one of those "get to know you" signings during the winter of 1990, just after Franco joined the Mets after the Randy Myers trade. This took place in the well known pantheon of baseball history known as Pergament hardware store. There was a long line and for time purposes, Franco was only interested in having the memorabilia shoved under him so he can sign it without ever looking up. Now a picture of the top of John Franco's blue cap wouldn't have been very impressive. So the only thing for me to do was to call out Johnny's name and hoped he would look up and say cheese. Only after I tried to get his attention about 15 times did he look up. Realizing I probably only had a second before he buried his head again to resume his assembly line style of memorabilia signing, I didn't ask...I just clicked.
If looks could kill.
And let me take this opportunity to say: sorry Johnny. I was young and stupid. What else can I say?
***
Some baseball fan I am. I was chatting with a key member of baseball history...a former Met at that. And didn't even know it.
Not even after I met him!
A colleague at a former place of business of mine was entertaining an associate, and as I passed them in the hallways, I was introduced to the visitor by name. I shook his hand with and gave him the generic "how ya doin'"? The man was very polite in return as we parted ways. Now mind you...I knew his name! And still had no freakin' idea.
Luckily for me, our paths crossed again, and I think he wanted to make sure I knew who he was. That's when he handed me a picture and asked "does this look familiar?":
Oh my freakin' goodness...you're that Mike Torrez?
Boy did I feel like a lummox. I had to come up with something:
"You know of course Mike that he sold his soul to the devil to hit that home run, don't you?"
And there it was...my own home run off of Torrez.
After Mike's good laugh, we chatted for a few minutes about the seminal moment and about baseball, most of that conversation being a blur. But what is crystal clear in my mind is that this was a man at peace...at peace with being on the wrong end of history. It's a place not everyone is comfortable with. Yet here's a man who, when presented the opportunity to escape an introduction to a nobody like myself without ever having to acknowledge what took place in October of 1978 at Fenway Park, made a conscious decision to point a flaw in his professional life. It's not something I'm sure I would have done. But Mike Torrez, the same Mike Torrez who I once thought was a bum when he pitched for the Mets but was actually a good pitcher who called Shea home at the wrong time in his career, did it.