Johnny Damon had better beware.
Because lately, donning the navy blue cap with the white interlocking NY drops your IQ by at least 50.
First, A-Rod with his
slap
.
Then, Randy Johnson with
his slap
.
But this one might take the cake. Former Met Matt Lawton, who was busted for taking a veterinary steroid,
finally went public
with his side of the story.
Lawton's excuse?
"Maybe it was the pressure of playing in New York, I don't know."
Where exactly do the Mets play Matt...Bangladesh? Do the Mets not rank high enough for you to risk your career?
But that's not even my favorite part of the story:
"I just wasn't physically able to do the job. I had never been in the playoff hunt before. So I did something that will always haunt me."
Now according to the article in Sports Weekly, Lawton said that he never taken amphetamines, but injected the steroid boldenone on Sept. 20. The next day, he started in center field and hit a home run in his first at-bat. He said he didn't feel any pain. So you would think the steroid helped take away the pain,
and
help him hit a home run, right?
Here's what this steroid related website
says about boldenone
:
"Boldenone gives you slower but much more high quality gains in muscle as opposed to the normal "quick" muscle gains that you would expect from a testosterone. This is not a steroid to take on its own and expect 20 lbs. in 6 weeks. It is just not going to happen. You can expect around 3 weeks before you start seeing results and they are not going to be staggering, but will be 'more permanent' than any gains you would get from any of the multiple testosterones that are available."
Considering he was only with the Yankees three regular season weeks, I say that jeopardizing your major league career taking a steroid that doesn't give you immediate results is pretty damn stupid.
So you see, while being an idiot is an attitude in Boston, it just might very well be a way of life in the Bronx.
***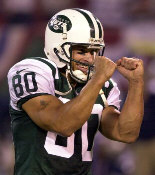 Wayne Chrebet had the relative physical stature of Joe McEwing, the ability to make a great career out of being basically disregarded in the draft like Mike Piazza, and the take no junk attitude of Turk Wendell. He also spanned his career from bad era to bad era, with plenty of goodness in between, a la Jerry Koosman.
Unfortunately he also had the concussions of Eric Lindros, and now
we must say good-bye
. And although he has the hall of fame chances of a Kelvin Chapman, my hope is that the Mets can find more players who make the most of their limited ability, and then give a little bit more than that...like a Wayne Chrebet.