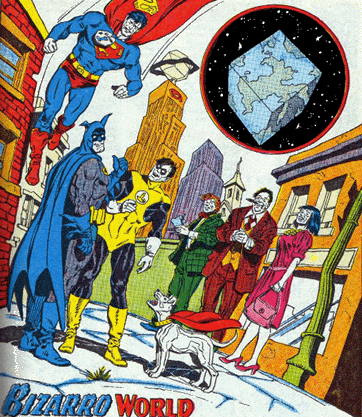 How do you know you're in an alternate universe?
The sanest moment in the Mets game you're watching is Braden Looper pitching the ninth inning.
Saturday's 7-5 win over the Dodgers may have been the strangest game yet. Pedro Martinez not having his best stuff. Carlos Beltran looking like Bernie Williams in the outfield. Miguel Cairo being introduced to the concept of sunglasses. Very strange.
Jose Reyes was the star. He had four hits, including a triple which drove in the tying run in the seventh inning. Reyes prompted
this quote
from Pedro:
"When I'm finished, I'll get the best seat to see him play...I'll pay whatever price to see him play."
The misplay by Beltran in the first, which cost the Mets two runs, lent credence to Mike Cameron's assertion that Shea is the toughest center field to play in the league. Incredibly, even though the ball went off Beltran's glove, Olmedo Saenz was given credit for a double.
(Mike DeJean argued that David Wright should have gotten an error on that play.)

Beltran also misplayed a Jayson Werth fly ball into a double, looping around to try and bucket catch it, instead of backhanding it. I wonder if part of his problem is that he plays too deep, perhaps wearing out a "Strawberry patch" in center field. I wonder if part of his problem is Shea.
Miguel Cairo also misplayed a pop-fly because he wasn't introduced to Ray-Bans in time. However, Cairo got a force out on the Jeff Kent pop-up. Incredibly, between Beltran and Cairo, the Mets were charged with zero errors today. It's interesting that the Mets were so lackluster in the field today...usually, they look like the kids in the Tom Emanski defensive drills tape when Pedro Martinez on the mound. Today, between their fielding and the latest baserunning disaster (Cairo again, forcing Minky to get thrown out at home in the eighth after Cairo forgot that you can't run to a base that's already occupied) they looked like circus freaks.
But the bats were consistent...the top 5 in the batting order had at least one RBI today for Martinez, who didn't have his best stuff but got his usual support.